Skip to Content
Erika Patino, RDH
Bilingual Hygienist in Parlin, NJ
Erika has always had a true desire for helping people with her gifted, gentle hands. She is extremely passionate about her job and loves working as a hygienist. She is compassionate and caring, and treats her patients like family. Her ultimate goal is for her patients to have healthy teeth and gums for a lifetime
Fluent In English & Spanish
Bilingual background
Erika is a key member of our team who enables us to provide excellent service to our Spanish-speaking clients. Fluent in English and Spanish, Erika helps all our patients understand their treatment and make informed decisions. She is a proud member of the Hispanic Dental Association.
Family & Volunteering
Personal Interests
When Erika is not working hard, she is cherishing time with her family and volunteering in church. She also loves watching a great movie and dancing, especially to salsa music. When Erika visits her hometown in Colombia, she is very active in many community service projects.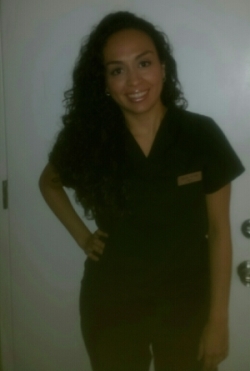 Education & Associations
Professional Qualifications
Education
Brookdale Community College
University of Medicine and Dentistry of New Jersey
St. Joseph's Hospital, Diploma In Local Anesthetics
Continuing Education
Assisted laser periodontal procedures
CPR and First Aid certified
Experience in orthodontics
Certified in Soft Tissue Management
Certified Pharmacy Technician
OSHA certified
Associations
Hispanic Dental Association
Bilingual in English and Spanish