Skip to Content
Paul Ahn, DDS
Parlin, NJ's Professional Dentistry Team
Dr. Ahn decided to pursue dentistry out of a powerful desire to help people while working with his hands. He is a well-recognized cosmetic and family dentist in Central New Jersey, and is known and trusted by his patients, community, and peers as a truly caring doctor.
Extensive Post-Graduate Training
Educational overview
He received his Doctor of Dental Surgery degree from the prestigious University of Toronto, ranked as one of the top five dental schools in North America. Dr. Ahn's extensive post-graduate training and experience in comprehensive treatment planning helps ensure your family's optimal dental care with his outstanding personalized service.
Beautiful Smiles & Nature
Personal interests
When Dr. Ahn is not creating those beautiful smiles, he loves spending time connecting with the natural world and hiking with his 10-year-old daughter.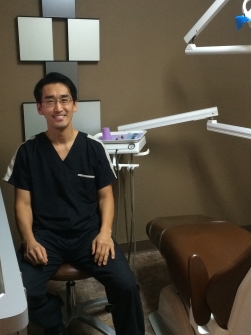 Education, Certifications, & Memberships
Professional qualifications
Educational background
University of Toronto – Faculty of Dentistry, Doctor of Dental Surgery (DDS)
Clinical Endodontic Training, CFB Borden
Clinical Oral Surgery Training, CFB Kingston
Continuing education and certifications
Periodontic Surgery CE, National Navy Medical Center, Bethesda, MD
Clinical Endodontic Training, CFB Borden
Lumineers by Cerinate CE, Teaneck, NJ
Orthodontic CE, Toronto, ON
Advanced Cardiac Life Support certification, Toronto, ON
Nitrous Oxide CE certification, Toronto, ON
Memberships and associations
American Dental Association
New Jersey Dental Association
Middlesex Dental Association
Canadian Dental Association
Ontario Dental Association
Kingston Dental Association
Lunineers Den-Mat
Academy of General Dentistry
Licenses